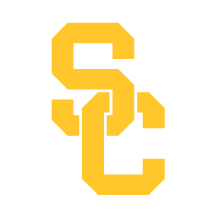 USC Trojans Football Tickets
Official Ticket Marketplace of the USC Trojans
There aren't any events on the horizon right now.
USC Trojans Football Tickets
Team: University of Southern California
Sport: NCAA Division I Football Bowl Subdivision
Conference: Pac-12
Claimed National Titles: 11
All-Time Greats: O.J. Simpson, Matt Leinart, Ronnie Lott, Junior Seau, Marcus Allen, Ron Yary, Bruce Matthews, Rodney Peete, Lynn Swann, Keyshawn Johnson, Carson Palmer, Tony Boselli, Reggie Bush, Chris Claiborne and Mark Carrier
USC Trojans Football Tickets
USC is known for many things: its V salute, its "Fight On" song and its impressive list of Heisman trophy winners. USC first established a football team in 1888, but it wasn't until the arrival of head coach Howard Jones in 1925 that the team experienced its first sustained success. Jones won national championships in 1928, 1931, 1932 and 1939 before stepping down in 1940. He finished with 121 wins, which stands as a USC record. Head coach and College Football Hall of Fame inductee John McKay would arrive in 1960. During his tenure, the Trojans won four national championships, produced two Heisman winners and became a member of the Pac-8 conference, which later evolved into the Pac-12. His replacement John Robinson won another championship in 1978. After intermittent success throughout the 1980s and 1990s, former New England Patriots coach Pete Carroll took over the reins in 2001 and led the Trojans to back-to-back championships in the following years. Grab USC Trojans tickets at StubHub.
Where does USC play?
USC plays at the Los Angeles Memorial Coliseum in Exposition Park, just across from USC's University Park Campus. Opened in 1923, the stadium has an illustrious history as the host of the Los Angeles Rams, the UCLA Bruins and the Summer Olympics. The current seating capacity stands at 77,500, down from more than 100,000 in the 20th century. The stadium features standard seating, club seating, loge boxes and luxury suites. The stadium is directly accessible via the Expo Line train or the Silver Line express bus.
What can I experience at a USC game?
Before the start of the game, you can join all sorts of alumni and fan activities. One of the largest events is the free Trojan Family Game Day Experience in Alumni Park. The game day experience features food, beverages, face painting, training camps and other activities. USC degree-holders can also visit the USC Alumni Association Membership tent or the Widney Alumni House. During the game itself, fans can enjoy the music of the Spirit of Troy marching band. The Coliseum features numerous concession options and a Court of Honor featuring notable events from the stadium's history.
How is the tailgating scene at the Los Angeles Coliseum?
Tailgating is permitted on the USC University Park Campus. However, all tailgating activities are restricted only to Saturday games and can begin no earlier than 6 a.m. Tailgaters must abide by the university's policies on equipment and grills. A tailgating permit is only required in certain circumstances, like if you are using electricity or a large tent or the number of people in your group exceeds 50.
Who are USC's biggest rivals?
Near the end of every season, USC competes with Notre Dame for the Jeweled Shillelagh trophy. This matchup between college football heavyweights, which has been held every year since 1926 with only a brief break during World War II, features more Heisman trophy winners and national champions than almost any other rivalry in college football. USC also shares state rivalries with UCLA and Stanford. The winner of the USC-UCLA game is awarded the prestigious Victory Bell.
What is USC's schedule for 2019?
For the 2019 season, USC plays Fresno State, BYU and Notre Dame out of conference. Its Pac-12 schedule includes Stanford, Utah, Arizona, Oregon and UCLA at home and Washington, Colorado, Arizona State and California on the road.
Back to Top