There aren't any Events on the horizon right now.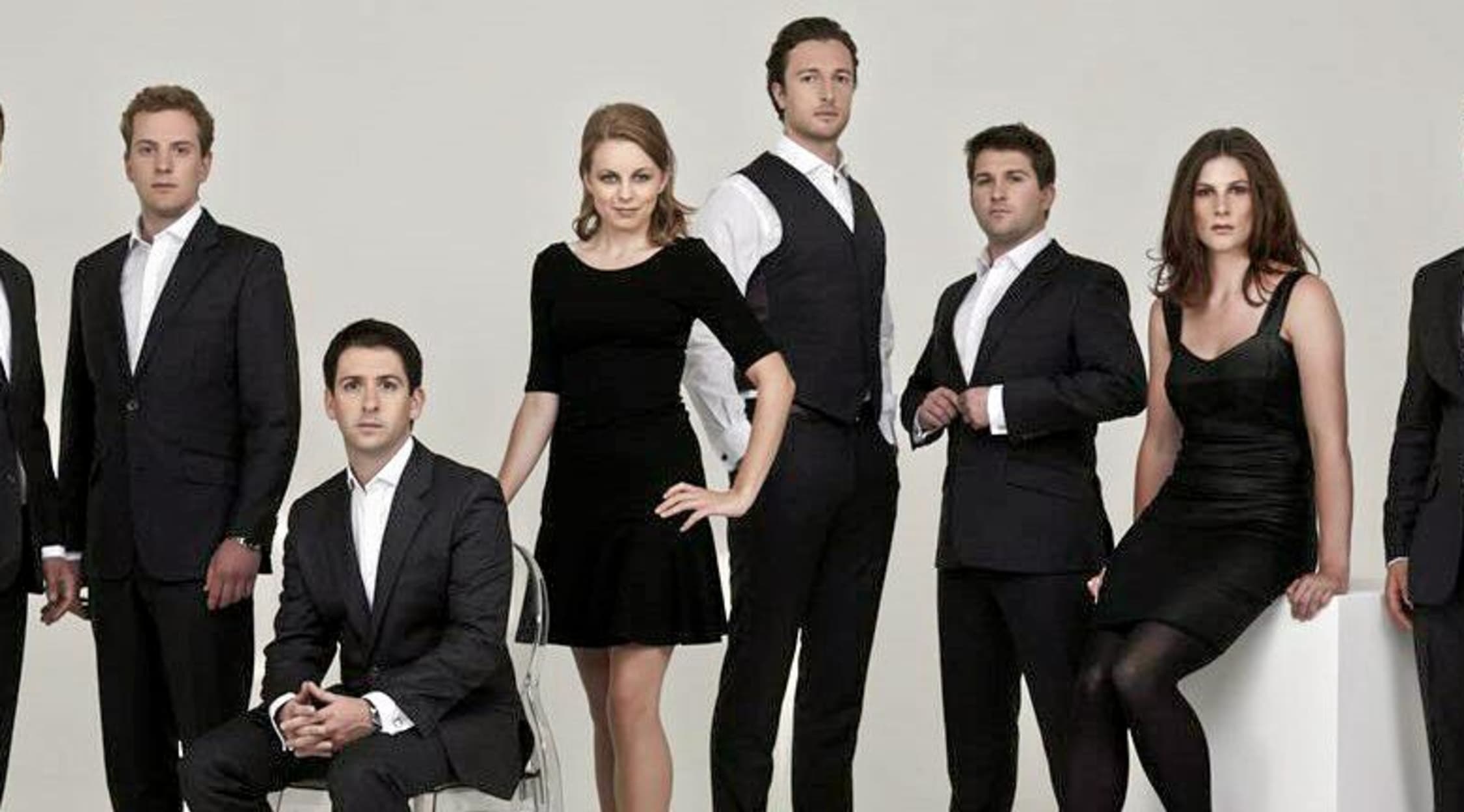 Rovi
Voces8 Tickets
Voces8 – The 2016 Tour
Voces8, the renowned vocal ensemble from Britain, will be coming to famous locations all over the United Kingdom, the United States, and Europe. They will be coming to the Cambridge Early Music Festival, Bozar in Brussels, St. Luke's United Methodist Church in Houston, and more. Internationally celebrated for their wide-ranging repertoire and flawless technique, Voces8 deliver a concert experience that leaves a lasting and resonant impression. Don't miss out – get your tickets today!
About Voces8
Voces8 are a British vocal group who are internationally renowned as a beloved and versatile singing ensemble. They have toured extensively throughout Asia, North America, and Europe, and they perform a repertoire that ranges from contemporary arrangements and commissions to Renaissance polyphony.
Recently, Voces8 have performed in such venues as the Mariinsky Theatre Concert Hall, the Tel Aviv Opera House, the Shanghai Concert Hall, the National Centre for the Performing Arts in Beijing, the National Concert Hall Taipei, Tokyo Opera City, Cité de la Musique Paris, the Royal Festival Hall, and the Wigmore Hall. Among the highlights of their current season are performances at Bridgewater Hall Manchester, the Barbican Centre and the Royal Albert Hall in London, the Early Music Festival in Utrecht, and the Vienna Konzerthaus. This season also finds the ensemble completing a major American tour with concerts in six out of seven ACDA Regional Conventions, plus a tour of South Korea which includes an opening performance at the Choral Festival and Competition in Busan. Voces8 currently hold performing residencies at Germany's Chor.com, the St. Magnus International Festival, the Cambridge Early Music Festival, the St. Andrew's Voices Festival, and in Houston. The group will return to such locations as Festival O/Modernt Stockholm, La Folle Journée Nantes, and Bozar Brussels.
Voces8 have collaborated with such organizations and artists as Matthew Sharp, Hugo Ticciati, Les Inventions, the London Philharmonic Orchestra, and the Philharmonic Orchestra. This season, the group will collaborate with pianists Ola Gjeilo and Jonathan Dove, L'Arpeggiata and Christina Pluhar, and John Rutter and the Royal Philharmonic Orchestra. The ensemble always look forward to working with a variety of composers, and they delightedly welcome this year's Composer in Residence, Ola Gjeilo. Jim Clements will serve as the principal music arranger. In previous years, Voces8 have premiered commissions by Thomas Hewitt Jones, Ben Parry, Alec Roth, Alexander Levine, Roxanna Panufnik, and Ola Gjeilo. Philip Stopford is this year's addition to that list.
With their ongoing program of live broadcasts and studio recordings, Voces8 are regularly heard on radio and television all over the world, including ClassicFM, the BBC, and MPR. Signed to Decca Classics, Voces8 have topped the U.K. classical chart with their albums Lux and Eventide. In 2016, Decca Classics released an album by Ola Gjeilo that features Voces8 performances. The beginning of the 2015/16 season saw the release of a Voces8 album on the Signum Classics label that covered the work of Benedetto Marcello, with accompaniment from Les Inventions. In 2013, Voces8 earned seven CARA nominations, and won those awards in the categories of Best Classical Song and Best Classical Album. Through Edition Peters, Voces8 publish educational material and arrangements, such as The Voces8 Method and the Voces8 Songbook.
Previous Hits
Voces8's most critically acclaimed releases in the United States are 2012's Christmas and 2014's A Purcell Collection.
For its collection of holiday music, this British octet have brought together an attractive and standout set of timeless anthems and carols, combined with less well-known pieces. The most affecting elements of their performances involve an elevated standard of tonal precision and a concentrated unity in the vocalists' vowels that yield a ringing purity. These qualities are amplified by the resonant, perfectly crystalline production of the Signum label. The group's intense tones allow them to sound a lot bigger than their eight members. The dynamic versatility of their pieces is remarkably expressive and broad, from rhapsodic richness on "In Dulci Jubilo" to hushed anticipation on "Coventry Carol". Their performances have lots of warmth, as well. Their voices, which blend beautifully, have unique and vibrant characters when showcased in solos. "Luminous" and "radiant" are perhaps overused adjectives for choral groups, but they are entirely deserved in this case. Jim Clements contributes new arrangements for three traditional carols, which are exceptional for their way of intensifying and capturing each song's essential meaning.
The eight-member vocal ensemble may well be held as a black belt standard of choral performance, and Voces8 have issued a number of records that appeal to both fans of simple, clean choral singing and aficionados of unconventional choral repertoire. 2014's A Purcell Collection could have been easily dubbed Miscellaneous Purcell, as it is difficult to locate an overarching principle that organizes the set. The CD's packaging capitalizes on the collection's variety, inviting listeners to stroll throughout the realm of the great English composer. Despite the album's self-aware description, listeners may nonetheless be surprised when the track list moves from the classic polyphony of sacred music to the vigorous Mediterranean dance numbers that were the hottest musical commodity in Purcell's England. A Purcell Collection is not a set of greatest hits; Purcell standards such as "When I Am Laid in Earth" did not make the cut, and the works included are overall quite unusual and fresh selections. Track eight, "My Heart is Inditing of a Good Matter", is an impressively structured and rarely heard anthem that was written for James II's coronation in 1985. Les Inventions, a French ensemble of instrumentalists, sustain the singers as they superbly execute this meaty work. Voces8's control is steady and firm throughout the entire album.
Trivia
Voces8 reach around 20,000 music fans and professionals every year with their innovative workshops in music education.
The Voces8 Concert Experience
Best enjoyed with fellow fans of premier choral works, the Voces8 concert experience will stir your blood and elevate your soul. Voces8 are celebrated around the world for their elegant, poignant, and uplifting performances of a wide variety of repertoire, from Renaissance-era pieces to contemporary compositions. The Voces8 concert experience will resonate for days afterward, so don't miss out on your chance to see the renowned vocal ensemble when they come to a location near you.
Back to Top
Epic events and incredible deals straight to your inbox.