We didn't find any Events nearby, but here's what's happening in other cities.
Walk Off The Earth tour venues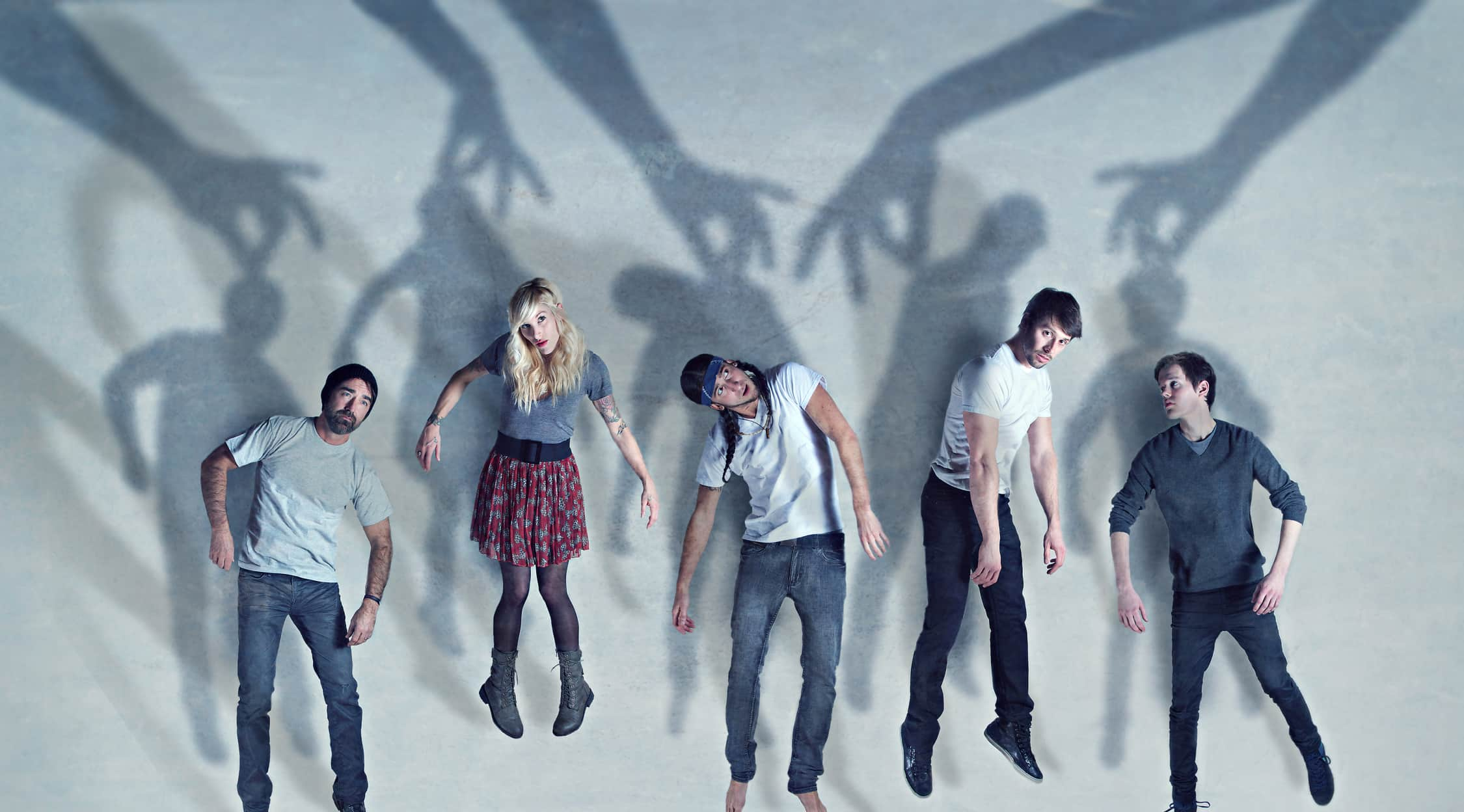 Rovi
Walk Off The Earth Tickets
Walk Off The Earth Tickets
YouTube has propelled many musicians to stardom, and Walk Off The Earth is no exception. The Canadian indie pop group made its name by performing covers of songs, such as Gotye's "Somebody That I Used to Know." It featured a video, with all the members playing a single guitar, that now has over 175 million views. Walk Off The Earth adds unique twists to its covers by singing a capella and using instruments such as ukeleles and theremins. The simplified and stripped music is a hit with the group's adoring original fans, who started showing up for Walk Off The Earth's concerts when it took the show on the road starting in 2013 after releasing the album R.E.V.O.
More Than Just a YouTube Cover Band
Walk Off The Earth videos are distinctive, which helped to garner attention. The band has been recording them since 2006, and while early videos were of lower quality, they were always interesting. The members work together to play and share instruments on screen, and the sound of the music isn't overproduced. Unusual instruments such as didgeridoos, kazoos and glockenspiels can commonly be heard in the band's music, which has ska, folk and reggae influences. The quirky formula has worked thus far, netting the group several Canadian Radio Music Awards, a Juno and a Streamy. The band's music is especially popular in its home country, where R.E.V.O made it to No. 7, and the most recent album, Sing It All Away, climbed the charts to No. 2. The albums combine original songs such as "Rule The World," which was certified platinum by Music Canada, and cover songs. 2017's "Fire In My Soul" was also certified gold, proving that the group can write music as well as play it.
Where can I buy Walk Off The Earth tickets?
You can purchase tickets to Walk Off The Earth's summer and autumn shows at StubHub.
Is Walk Off The Earth touring in 2019?
Yes. The band is currently on tour and has show dates until November. Earlier in the year, Walk Off The Earth was joined by Gabriela Bee on several European stops.
Will Walk Off The Earth play a show near my city?
The band's current tour will take it to venues in the United States and Canada. US stops include Portland, Oregon, and Louisville, Kentucky. Destinations in Canada include Vancouver, British Columbia; Toronto, Ontario; Edmonton and Calgary, Alberta; and Winnipeg, Manitoba.
Who are the members of Walk Off The Earth?
Walk Off The Earth consists of Ryan Marshall, Joel Cassady, Sarah Blackwood and Gianni Luminati, each of whom plays a variety of instruments. Aside from Joel, each band member also contributes to vocals. Mike Taylor, who was known as "Beard Guy" for his impressive facial hair, passed away in 2018. Walk Off The Earth's touring band includes Lee Williamson, James "Ervy" Ervin, Adam Michael, David "Tokyo" Speirs and Zach Gerber. The extra hands help to play instruments that were added to recordings using layering.
What is a typical Walk Off The Earth setlist like?
The band's most commonly played songs include original songs from its albums, such as "Red Hands," Gang of Rhythm," "Sing It All Away," "Rule the World" and "Home We'll Go." Fans can also hear covers such as "Hey Ya" by OutKast, "Teenage Dirtbag" by Wheatus and "Bohemian Rhapsody" by Queen. Walk Off The Earth plays cover medleys during its concerts and may play several during a show.
How long is a Walk Off The Earth concert?
Typical shows include 18 to 20 songs. Walk Off The Earth often performs an encore or even two for its fans. Because the concerts include unique medleys of different songs, it's difficult to pinpoint exactly how long a Walk Off The Earth concert will be.
Back to Top