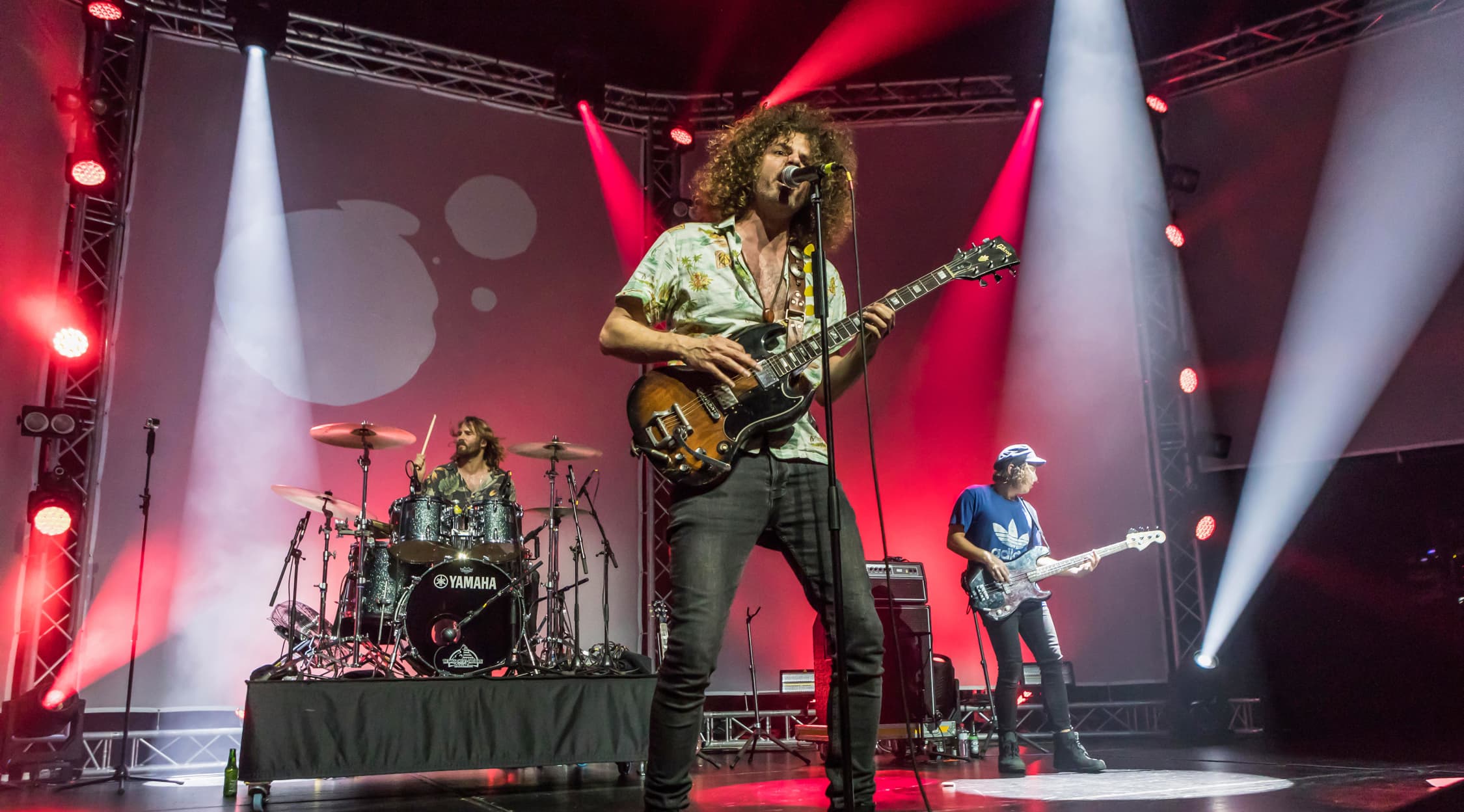 Alamy
Wolfmother Tickets
Wolfmother – The 2016 Tour
Whether Wolfmother are performing in the most massive arenas or the most exciting outdoor festivals, these three classic rock revivalists deliver an energetic and theatrical live performance. They will be coming to such iconic venues as Le Trianon in Paris, C-halle in Germany, Rock n' Derby in Schaghticoke, and more! Don't miss out on your chance to see these rambunctious rockers live and in the flesh. Get your tickets today!
About Wolfmother
Wolfmother mold themselves in the tradition of booming rhythms, primeval psychedelia, and chokingly fuzzed-out guitars. These millennials are reviving classic rock, and they fall somewhere between the White Stripes' old-school garage and Black Sabbath's primal sludge. Helmed by Andrew Stockdale (guitar and vocals), the three power rockers came thundering out of their native Sydney, Australia in the mid-'00s. In 2005, they released their eponymous debut album, which yielded global success with the singles "Joker and the Thief" and "Woman". Through the trio occasionally stumbled in their follow-up efforts – the lineup frequently changed, with Stockdale as the band's only founding band member – they released 2009's Cosmic Egg and 2014's New Crown to cult success.
In 2000, Wolfmother were established by Stockdale and Myles Heskett (drums). Heskett then recruited Chris Ross (keys and bass). They woodshedded for some years, but they finally gained some momentum after playing their first live show in the spring of 2004. In August, Wolfmother were signed to Modular Records, and they recorded an eponymous EP at Ghetto Studios in Detroit with Jim Diamond as producer (it was no coincidence that Diamond has also produced the White Stripes' earliest albums). The Wolfmother EP ended up making the singles charts in Australia, and the band continued to tour before inking a deal with Universal Records. They then decamped to L.A. to record their debut full-length with David Sardy behind the boards. The Wolfmother LP was released in Australia in October of 2005 to massive success. In the end, it reached quintuple platinum sales in their native land. The album was released in other countries early the following year, and it sold well on the strength of the songs "Joker and the Thief", "Woman", and "White Unicorn". Wolfmother also landed a number of gigs on video games, TV, and film, and they further capitalized on their success with a relentless live schedule that focussed on music festivals.
After all these demanding promotional efforts, cracks began to emerge in the group. In the summer of 2008, Universal revealed that Ross and Heskett had left. Stockdale then added three more members to make the band a four-piece: Aidan Nemeth took over guitar, Ian Peres helmed keys and bass, and Dave Atkins took on the kit. This new lineup debuted in early 2009 with the new name of White Feather. At the same time, they started to cut a sophomore Wolfmother LP. Cosmic Egg was released late in the year, and it made a considerable impact on the charts of several countries – it was a number 16 entry in the United States and a number three smash in Australia. However, it did not enjoy quite as much fanfare as its predecessor.
The band toured in support of the album until 2011, and Atkins had been replaced by Will Rockwell-Scott the previous year. Next, Wolfmother focused on the creation of their third LP. The band's structure, however, was still shaky. In 2012, Rockwell-Scott and Nemeth both left, and Hamish Rosser (drums) and Vin Steel (guitar) took over. Elliott Hammond was also added the lineup to man the keys. They kept working on the next album, but Stockdale eventually opted to retire Wolfmother and released the LP, Keep Moving, as his solo effort in mid-2013. The record did not find much chart success as a number 32 Australian hit. By year's end, Stockdale announced the revival of Wolfmother (without Hammond). Steele then took over the kit, and the band were again a three-piece. This configuration issued a surprise LP in early 2014, titled New Crown. The following year, their debut album was re-issued as a deluxe edition with two CDs that celebrated the 10th anniversary of Wolfmother.
In November, a fresh single titled "Victorious" was released as a lead-in to an album of the same name. A second pre-release track, "Gypsy Caravan", followed in January of 2016. The album itself arrived in February. It had been cut in a Hollywood studio with producer Brendan O'Brien. Album credits listed Stockdale as guitarist, bassist, and singer; Peres as keyboardist; and Joey Waronker and Josh Freese as drummers.
Previous Hits
Wolfmother's hit singles include "Woman" (2006), "White Unicorn" (2006), and "Joker and the Thief" (2006). Hit albums include Wolfmother (2005) and Cosmic Egg (2009).
You can't deny that this hard rocking power three-piece have grown up with the classics of the '70s. The only issue is, after surveying all the tracks on their self-titled full-length debut, they found their way to classic rock through the gateway acts of Queens of the Stone Age and the White Stripes. Once they finally arrived at the seminal works of Sabbath and Zeppelin (after making excursus into the CDs of Soundgarden, Rush, and Yes), they reveled in these sounds until their aesthetic sensibilities were truly warped. Their accidentally bizarre mashup of rock history is a dizzying delight, and their sound is basic and brutal.
After reworking the rhythm part of the lineup, Andrew Stockdale proved once and for all that he is Wolfmother's heart on 2009's Cosmic Egg. He has helmed a sophomore album that basically recreates the formula of its predecessor. Both albums are besotted with the weighty, throttling classic '70s rock, especially Zeppelin and Sabbath, and it's broken up with some White Stripes-style caterwauling. The sound remains the same, while the songs take on a new hue. With some exceptions, like the Jack White tribute "White Feather", the band distance themselves from brutal, basic riffs. Instead, they aim for deep fantasy with churning guitars and occasional flourishes of Deep Purple-style organ.
Trivia
Before forming Wolfmother, Andrew Stockdale had worked in photography, Myles Heskett in graphic design, and Chris Ross in online media.
The Wolfmother Concert Experience
Get set for a thrilling and raucous rock show that draws on the classic styles of Led Zeppelin, Black Sabbath, and AC/DC. Wolfmother's live show offers a perfect balance of musical chops and charismatic showmanship. Whether you love their fantastical, Zeppelin-style lyrics or their epic guitar riffs, Wolfmother bring a concert experience that you will never forget. Don't miss out!
Back to Top
Epic events and incredible deals straight to your inbox.