We didn't find any Events nearby, but here's what's happening in other cities.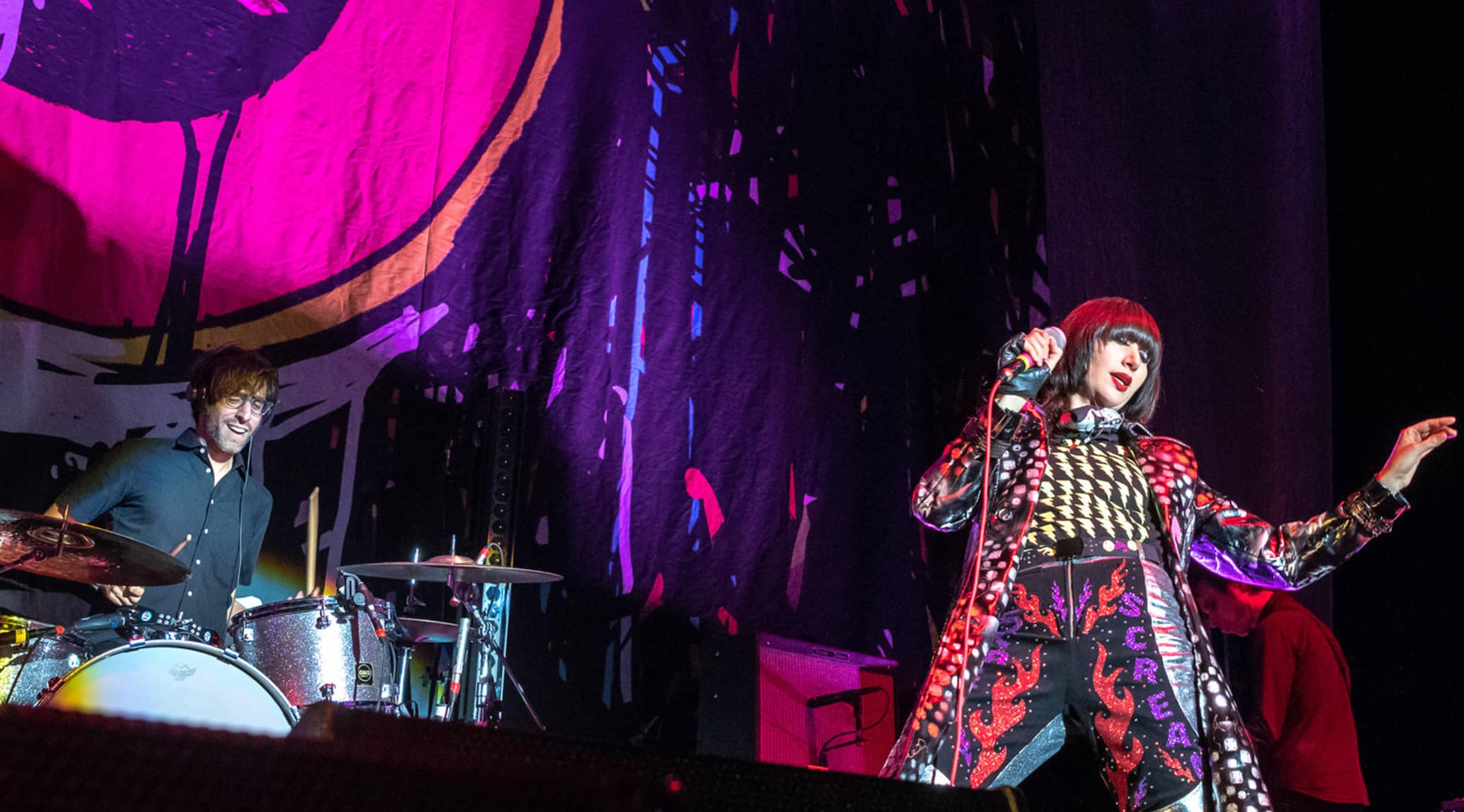 Alamy
Yeah Yeah Yeahs Tickets
Yeah Yeah Yeahs Tickets
As the primary creative outlet for Karen O, Yeah Yeah Yeahs is one of the most well-known indie rock bands to rise from New York City. The trio originally formed in 2000 as a project between classmates at New York University. Its poignant blend of glamorous art-pop and grunge-tinged garage punk gained them quick notoriety, and a rapid rise saw the act touring with The White Stripes and The Strokes by 2001. Yeah Yeah Yeahs released its first studio album, Fever to Tell, in 2003, and the record was bolstered by the extremely successful alternative single, "Maps." Hard rock was explored further on Show Your Bones in 2006, and Yeah Yeah Yeahs even dabbled in industrial sounds on Is Is in 2007. In 2010, the group took an unexpected turn towards electronic dance music with It's Blitz, which was fronted by two synth-heavy club hits: "Zero" and "Heads Will Roll." The band's fourth album, Mosquito, pushed the limits of Yeah Yeah Yeahs' range in all directions. While working on new music, the group has continued to tour regularly and is a frequent headliner at major festivals.
The Live Prowess of Yeah Yeah Yeahs
Since formation, Yeah Yeah Yeahs have been active in the modern art scene, and has garnered significant attention for its powerful live performances, which feature sharp production values and avant-garde theatrics. The group's first taste of international acclaim came after a well-received performance at South by Southwest in 2001. Their explosive stage presence has been documented in an official 2004 concert DVD, Tell Me What Rockers to Swallow, which contains exclusive footage of the band's show at The Fillmore in San Francisco earlier that year. The visual companion piece to Is Is was filmed at Brooklyn's Glasslands Gallery. Despite continuing to sell out its gigs, Yeah Yeah Yeahs announced an extended hiatus after touring in support of Mosquito; fortunately, the band has been on the road regularly since 2017 to promote its vinyl reissue of Fever to Tell. These concerts have included The Fonda Theatre in Los Angeles and Fox Theater in Oakland.
Where can I buy Yeah Yeah Yeahs tickets?
Yeah Yeah Yeahs tickets and tour information can be found at StubHub with up-to-date details and new performances added whenever possible.
What kind of concert does Yeah Yeah Yeahs play?
Yeah Yeah Yeahs' signature mix of dance music and punk is at the foreground, but the band is never afraid to switch things up with intimate acoustic sets, surprise disco interludes, unexpected rap cameos, dark Gothic instrumentals and a dash of trance.
Who has Yeah Yeah Yeahs collaborated with?
The interconnected musical world of Yeah Yeah Yeahs is quite impressive. Mosquito was produced in part by James Murphy of LCD Soundsystem and Dave Sitek of TV on the Radio. "Heads Will Roll" was certified Gold, particularly based on the strength of remix releases by James Iha, Passion Pit, Little Vampire and Tommie Sunshine. The band also was named as a writer for Beyoncé's Grammy-nominated song, "Hold Up," in 2016.
Besides Yeah Yeah Yeahs, what are Karen O's other projects?
Karen O collaborated with Trent Reznor and Atticus Ross on a cover of Led Zeppelin's "Immigrant Song." She also released Lux Prima in 2019 with Danger Mouse.
Do the other members of Yeah Yeah Yeahs have any side projects?
Nick Zimmer is a member of The Rentals, and he has worked with various acts including Scarlett Johansson, Bloc Party, Santigold, Amen Dunes and Songhoy Blues.
What bands influenced Yeah Yeah Yeahs?
Noted sources of inspiration include Sonic Youth, PJ Harvey, Van Halen and Blondie.
Back to Top
Epic events and incredible deals straight to your inbox.